Please be patient... it may take this page a few moments to load
---
I am Jazmin. Or more formally, Paradise Kees Personal Passion. I joined the Ramsey "pack" on May 9, 2013 to become the younger sister to Baxter. Seems there had been another doggie here named Kirby, but he went to the Rainbow Bridge on 2/1/2013, and my new Momma had been wanting a little Keesie baby girl again - so here I am!!!

I know it won't take long for me to have them completely wrapped around my little paw. I think Baxter will show me all the tricks, plus I'll add my own special brand of charm, and it won't take any time at all.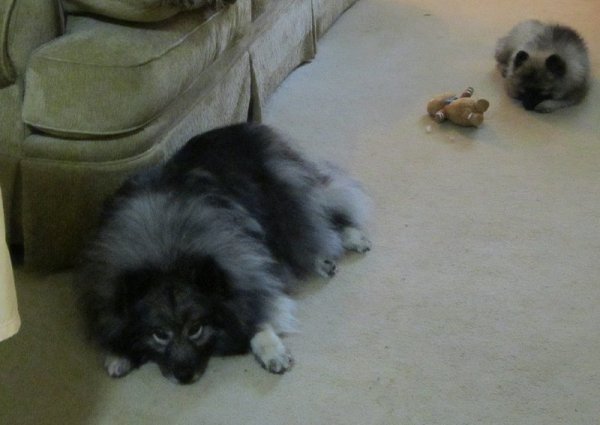 Here I am on one of the first days at my new home, resting with my new big brother.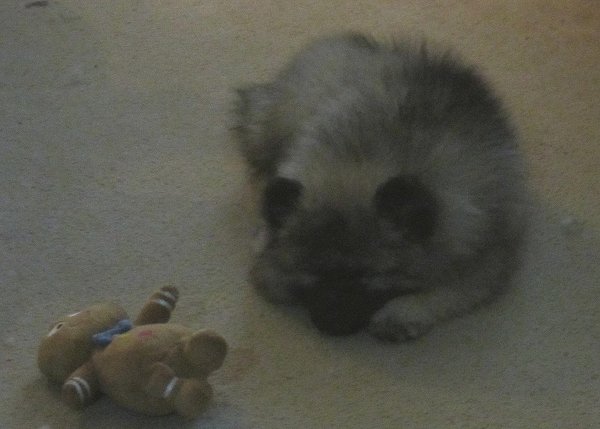 Being a puppy is hard work. I fell asleep while chewing on a gingerbread man. One of my many toys.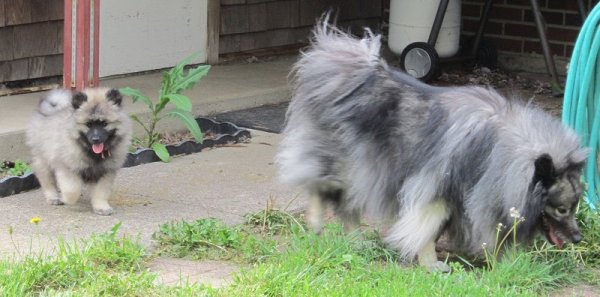 Checking out my new yard and following my big brother Baxter.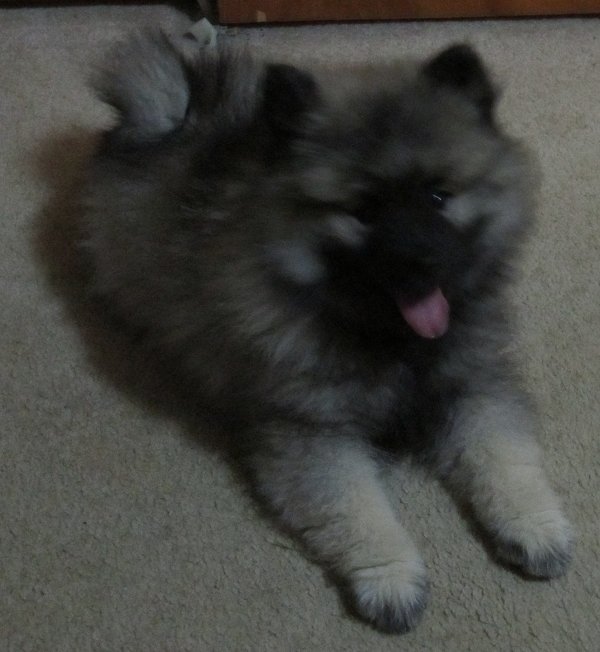 Posing for the camera :)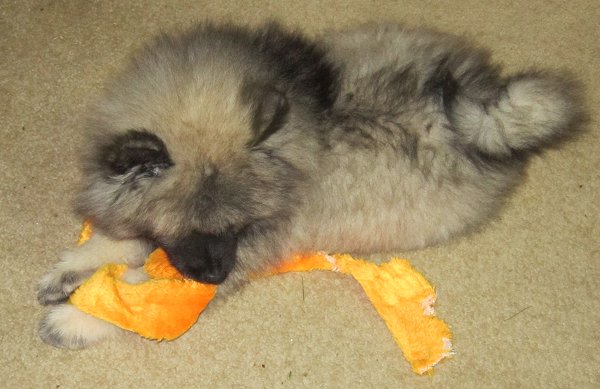 I quickly claimed orange as my favorite color!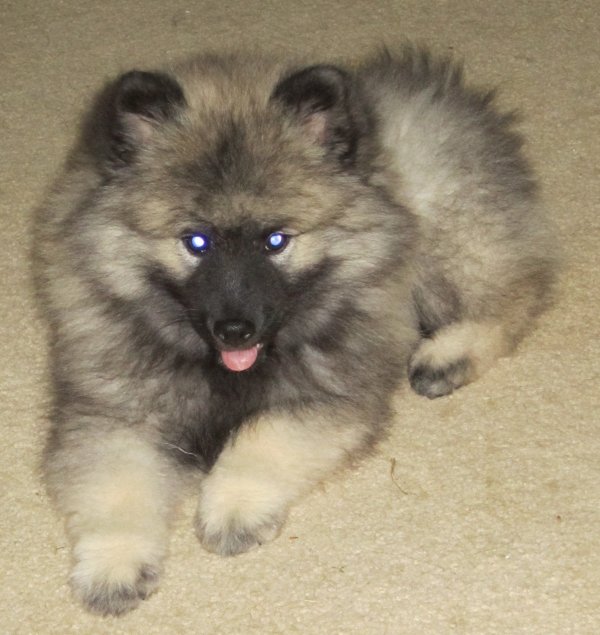 Taking a short breather, but I'll be back doing "pants on fire" shortly!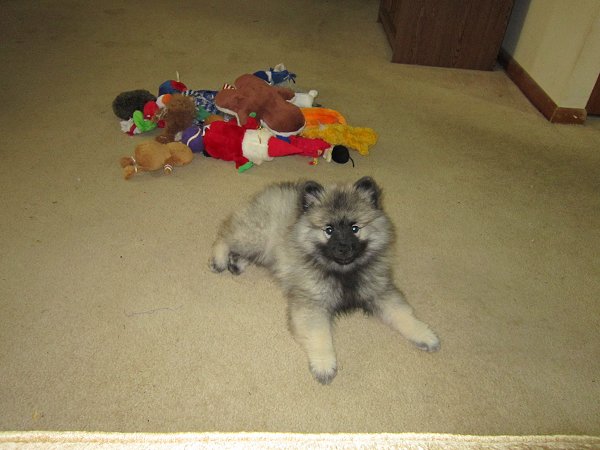 Of the dozens of toys at my new home I've already claimed all of these as mine!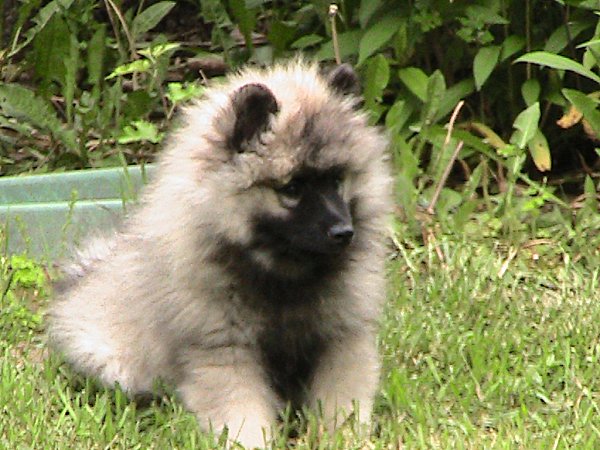 Examining my yard for intruders.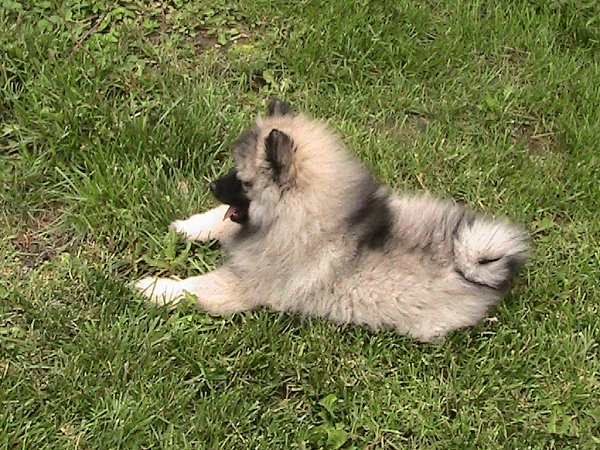 A moment of rest before tearing across the yard again.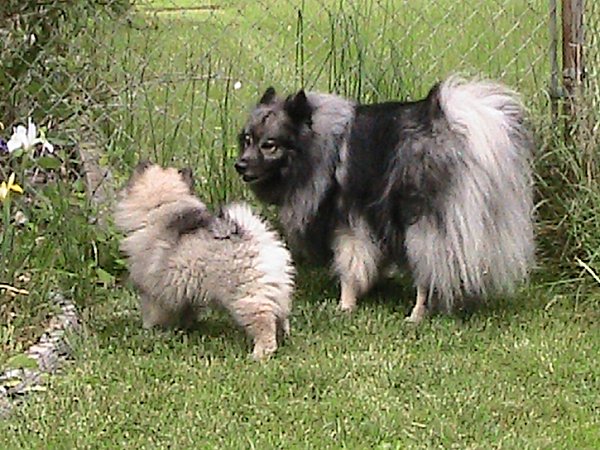 Learning from my brother Baxter.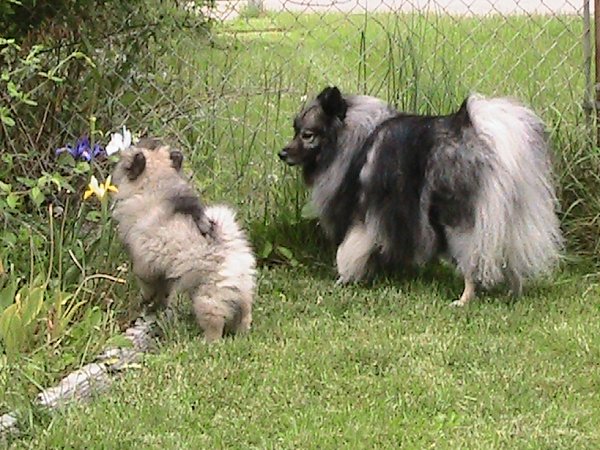 Baxter keeps a watchful eye on me to make sure I stay out of too much trouble. It's a full time job!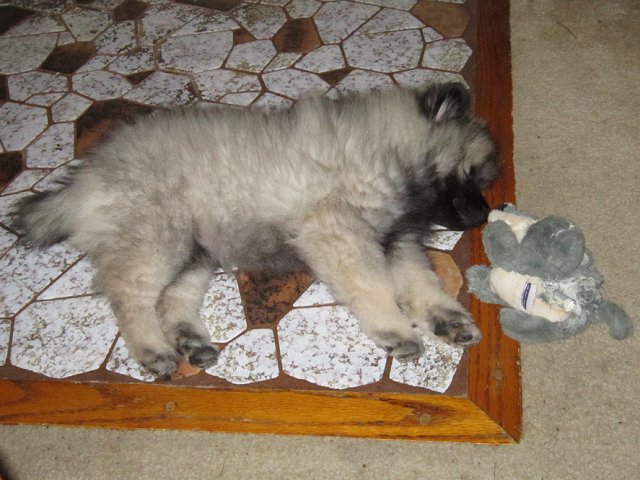 Don't I look so innocent when I'm asleep?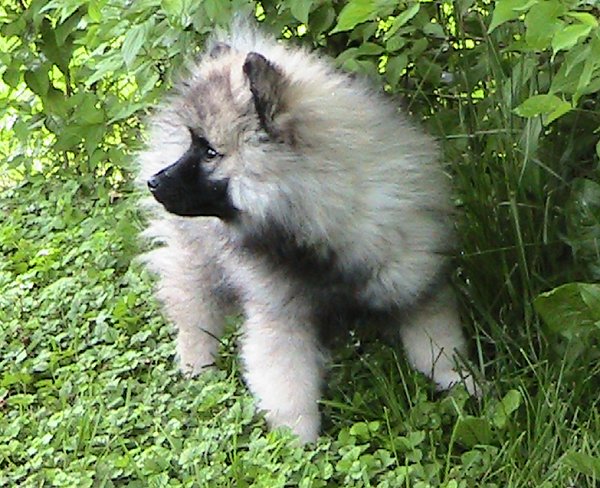 I'm camouflaged!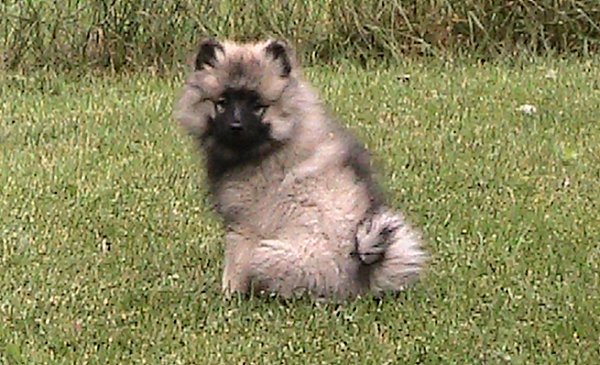 Watching over my yard.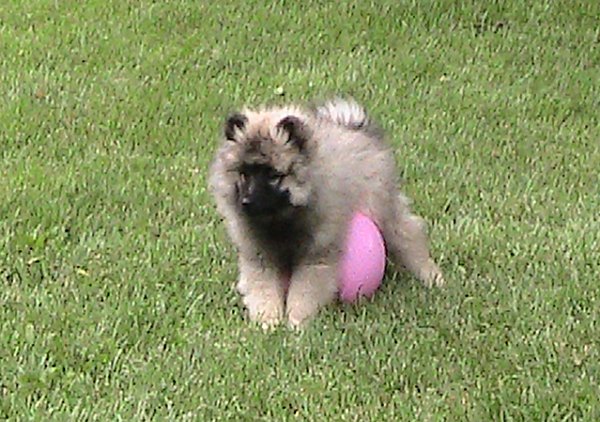 Protecting my pink ball.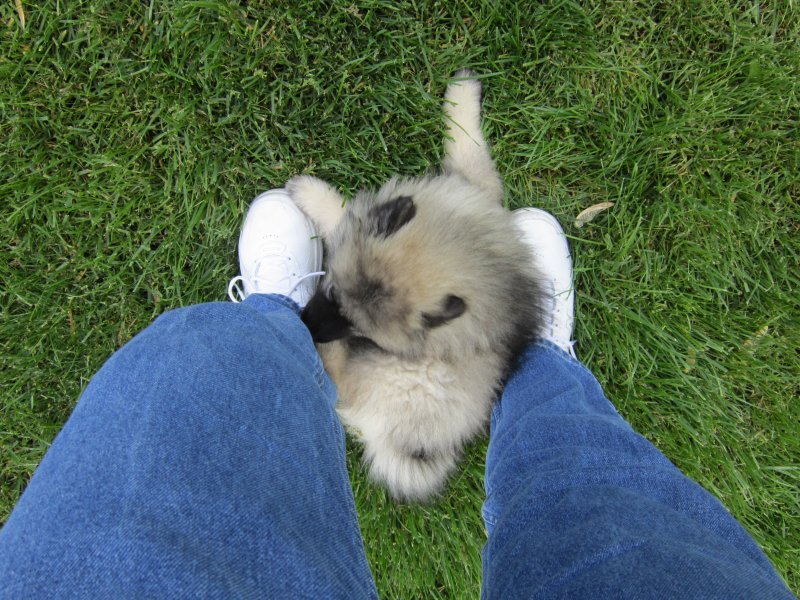 Here I am at mommy's feet, I love biting at pants and pulling shoe strings.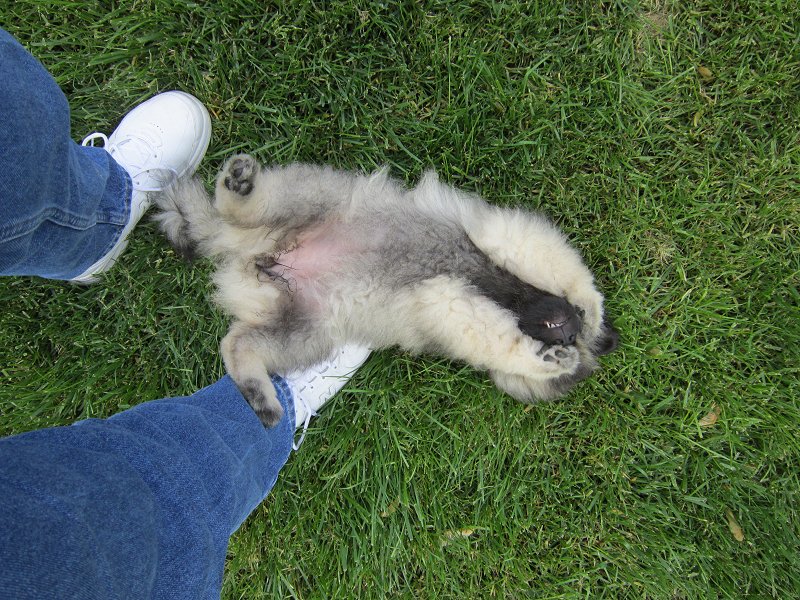 Being cute for mommy!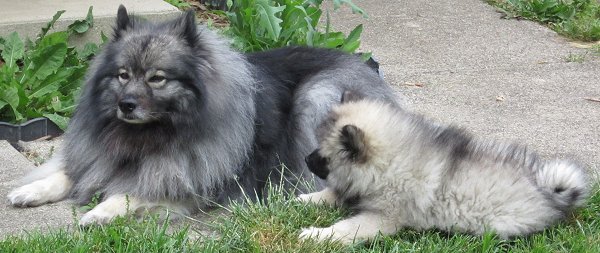 Watching my big brother to find out what to do next.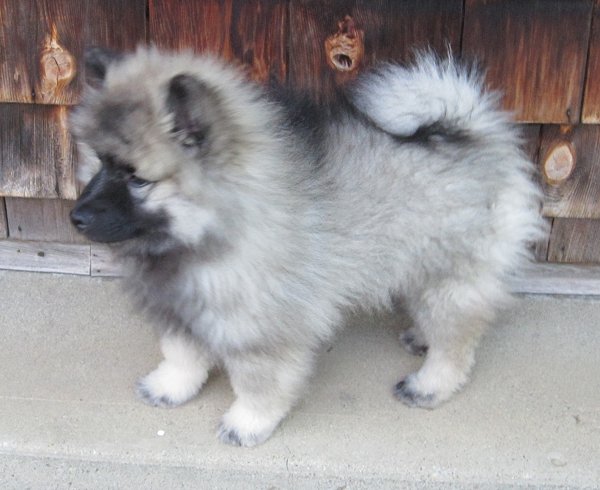 Emulating my big brother and being on guard.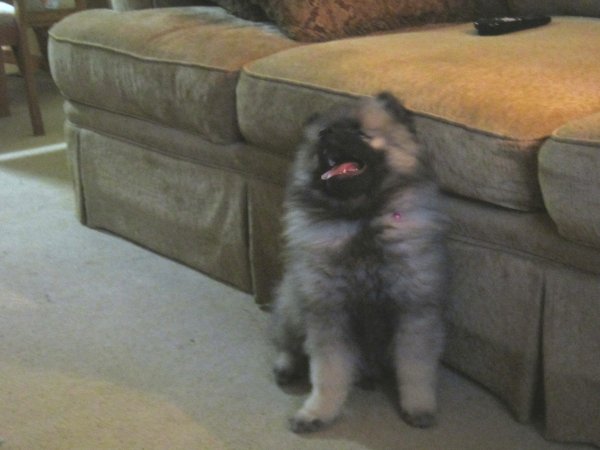 Yawning after a play session in the house.
Curled up behind the chair for a nap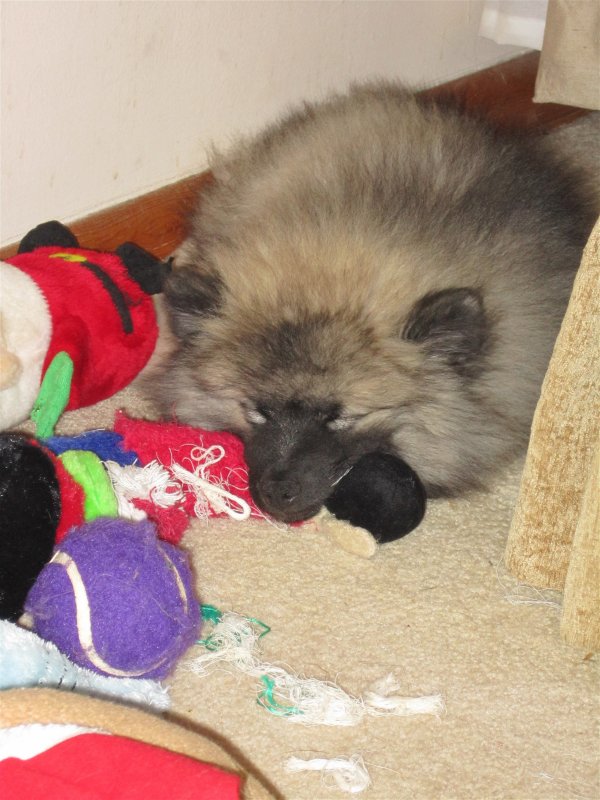 This toy is my Baxter's favorite, so I feel asleep on it to make sure he can't get it from me!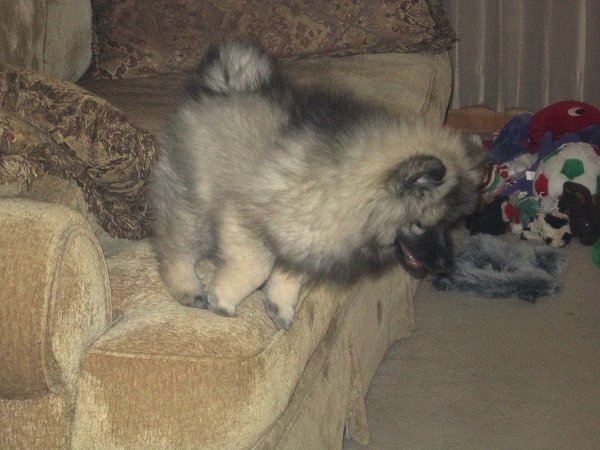 About to take a leap of faith. That's a long way down for a puppy.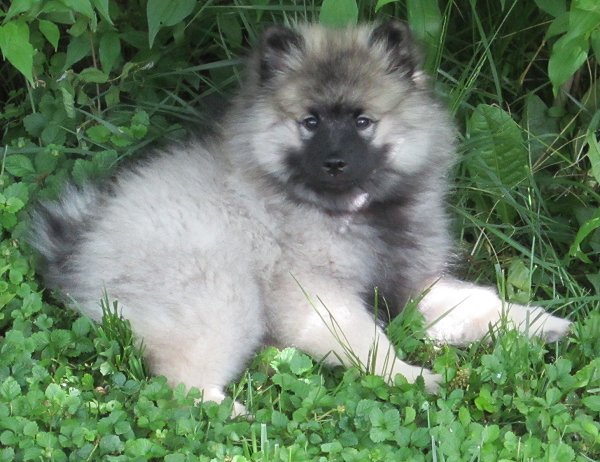 Resting in the yard.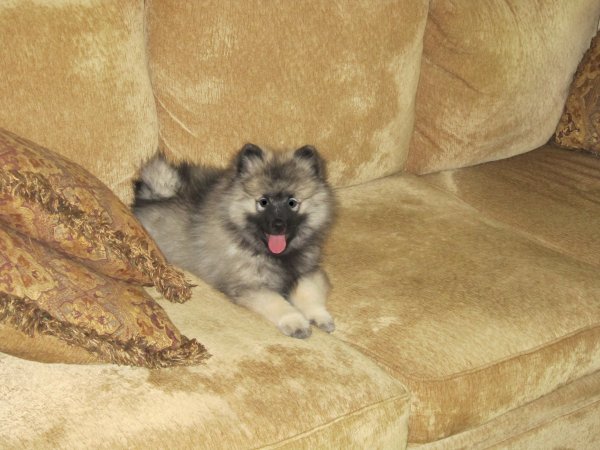 Now resting on the couch. I had just learned how to jump all the way up here!
Here are some of my baby pictures...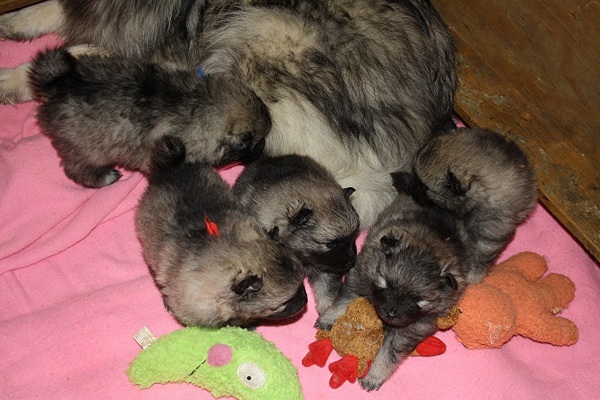 Here I am at 3 weeks old with my three brothers and sister.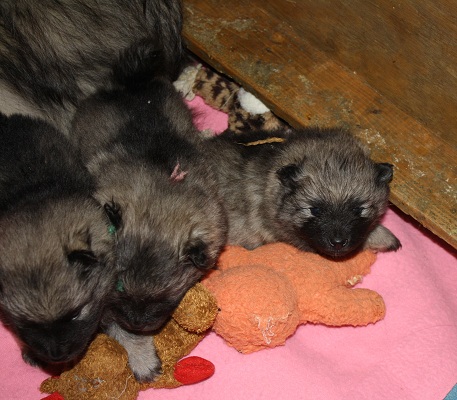 Here I am again with two of my brothers. I'm the one on the right.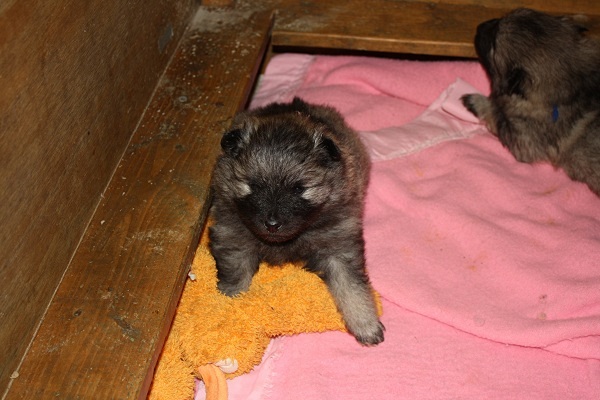 Here I am resting in my whelping box. Just a few weeks old, but I'm already drawn to the color orange :-)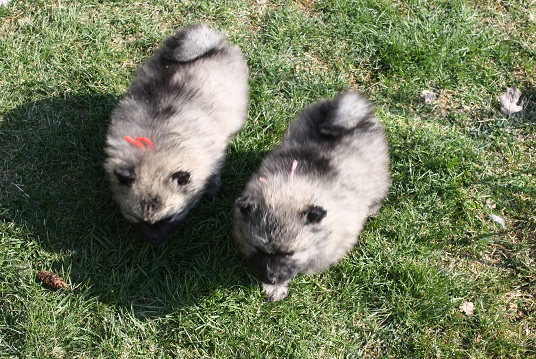 In the yard with my only sister. I'm the one on the right.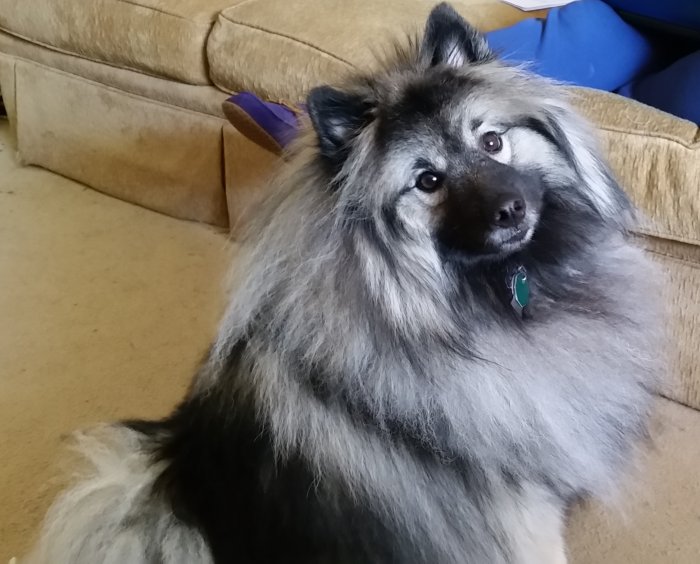 Here I am posing in front of the sofa. It's a favorite hangout of mine.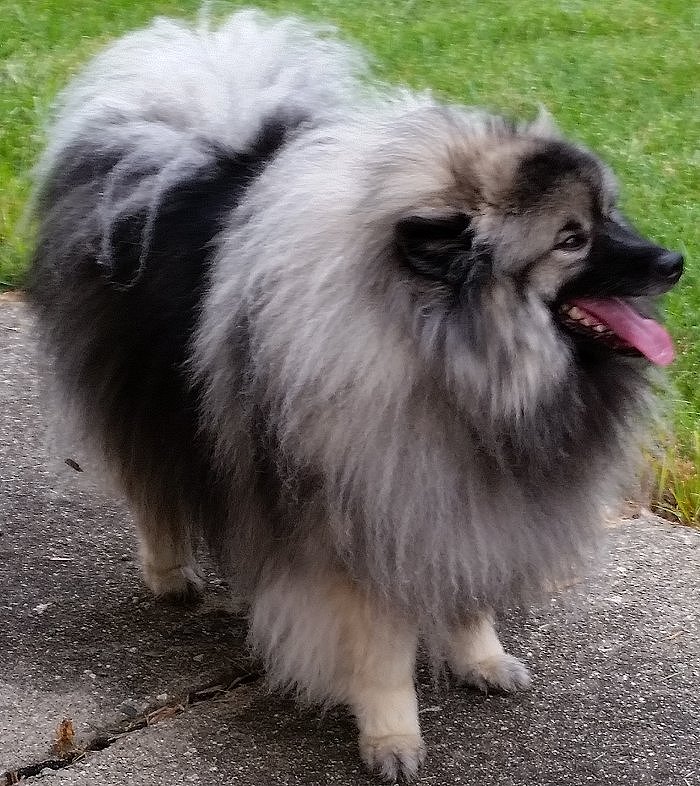 In my yard making sure everyone in the neighborhood is behaving themselves!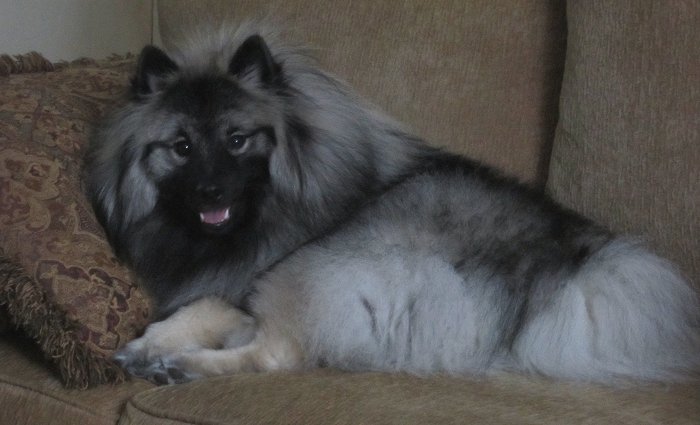 Laying on the sofa... a favorite spot for all Keeshonds!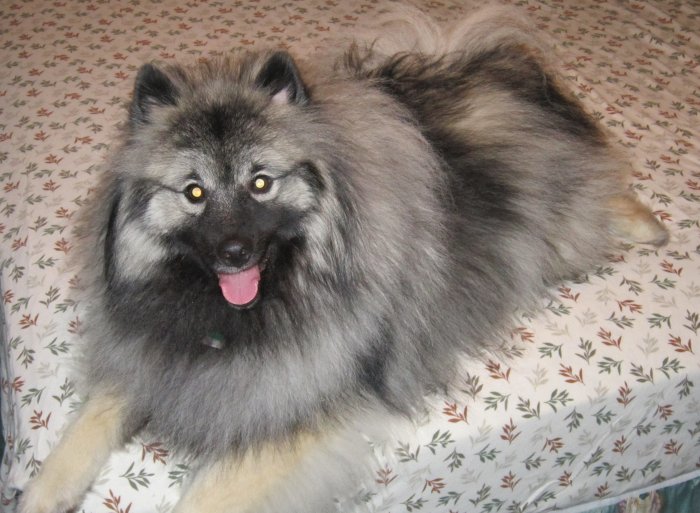 "Helping" mamma make the bed :-)
The famous Keesie smile!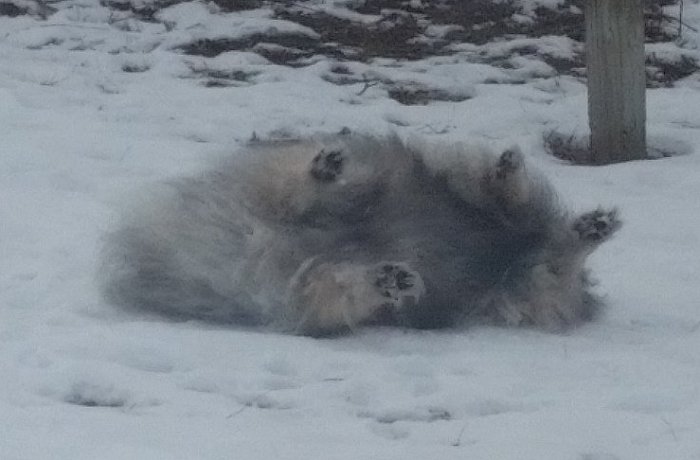 Being silly in the snow.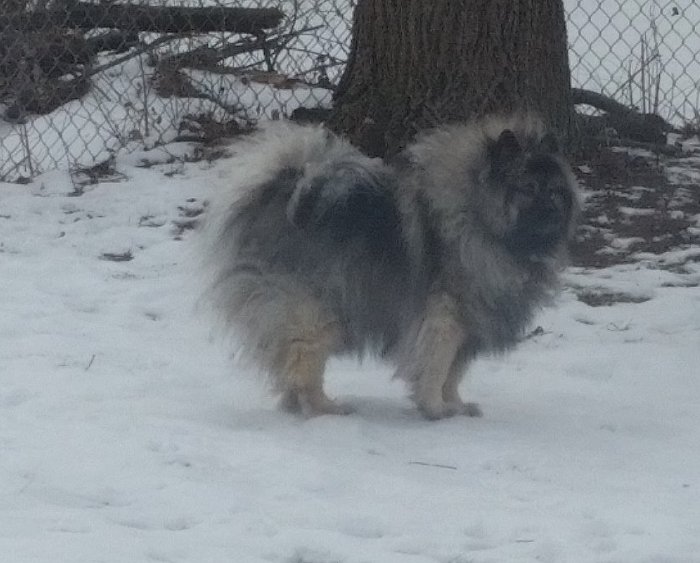 Winter is a good season for Keeshonds.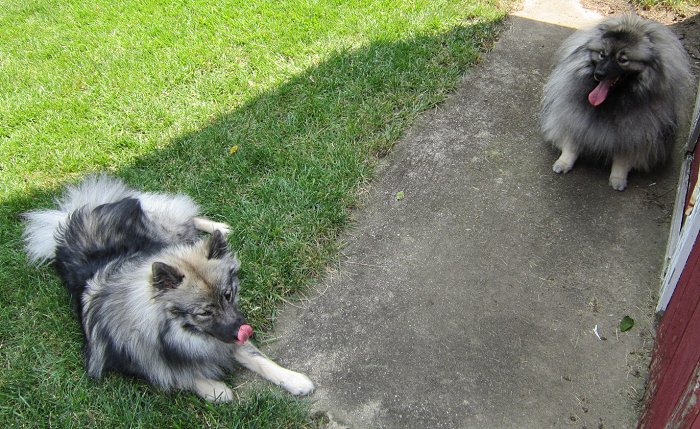 My new little brother Baloo and I resting in the yard.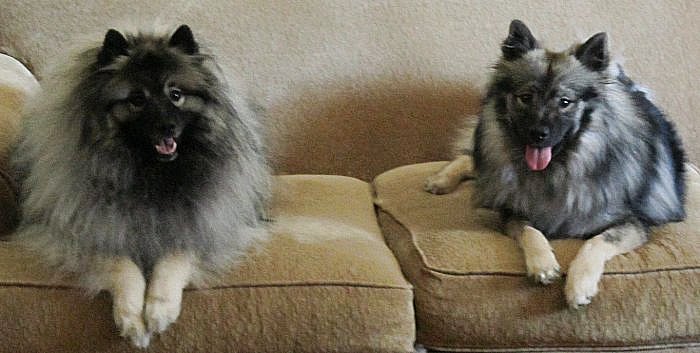 That's me on the left with my brother Baloo. My fur is kind of a mess because Baloo pulls on it while we are playing!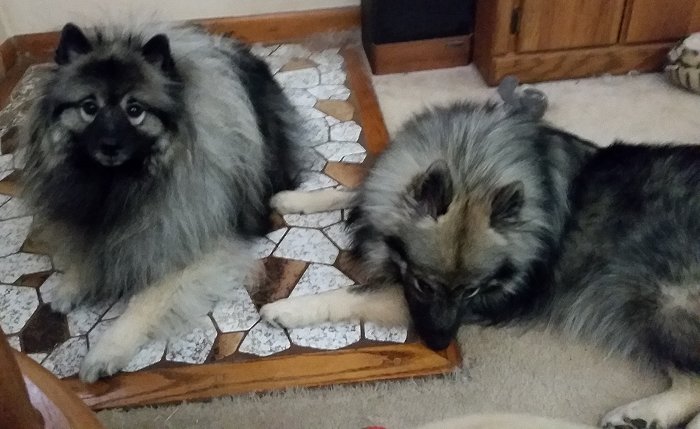 Sleeping by the front door with my brother Baloo. Both of us like the cool tile, but I get first choice because I have seniority!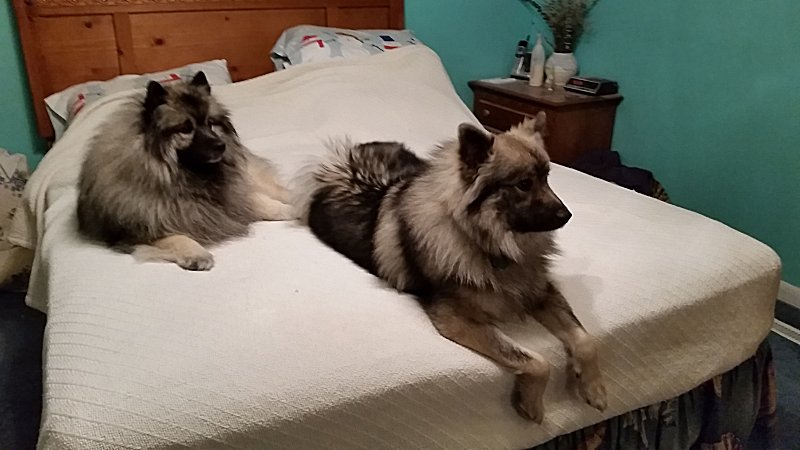 Laying on the bed with my brother Baloo (right)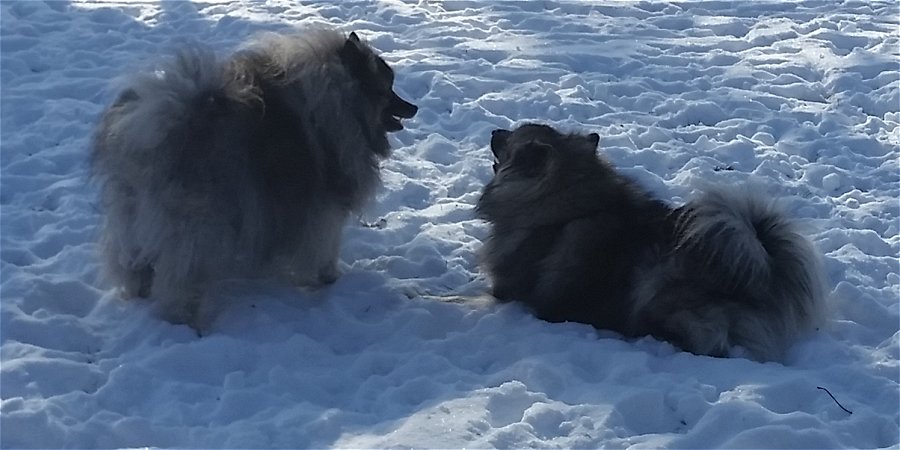 Baloo and I in the snow. I'm on the left.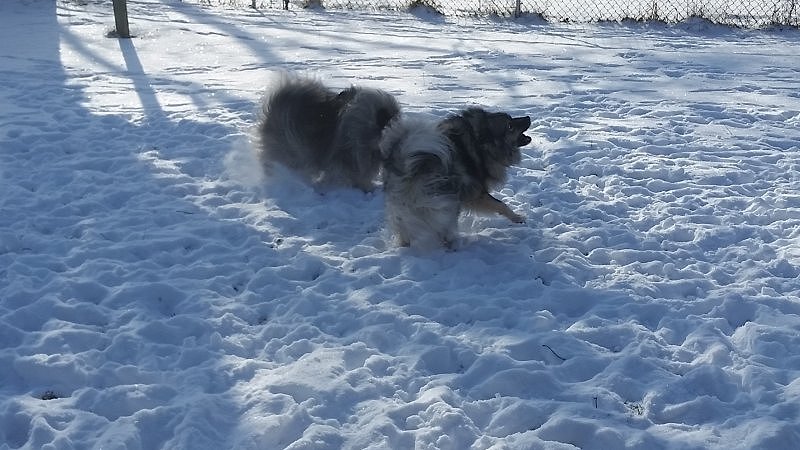 And now Baloo and I fighting in the snow. I'm still on the left and getting the better of him!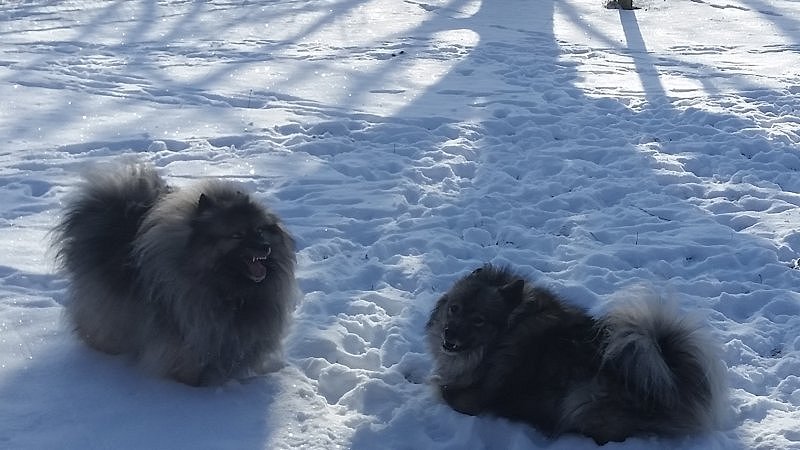 Doing my victory howl because I won that round!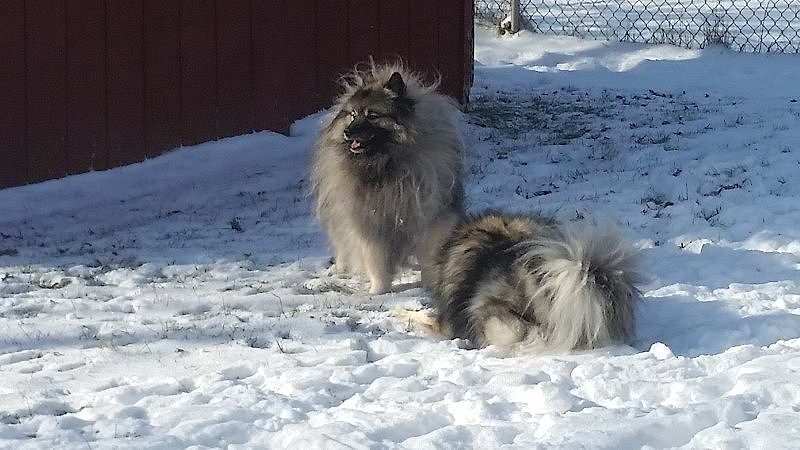 Still playing in the snow, but something's got my attention.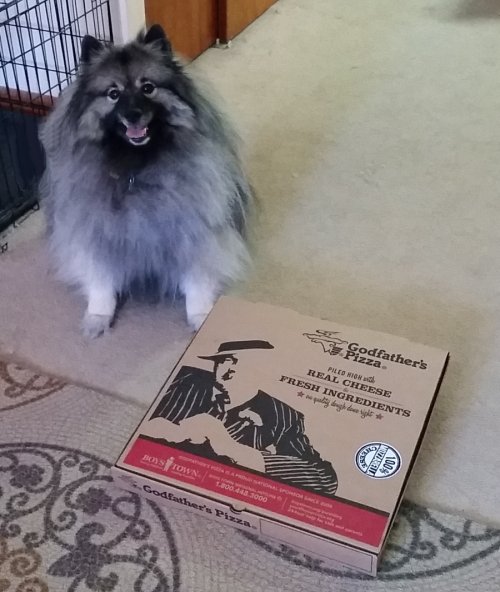 It's my 5th birthday and daddy got a jumbo pizza for us.
Brother and I get the crust...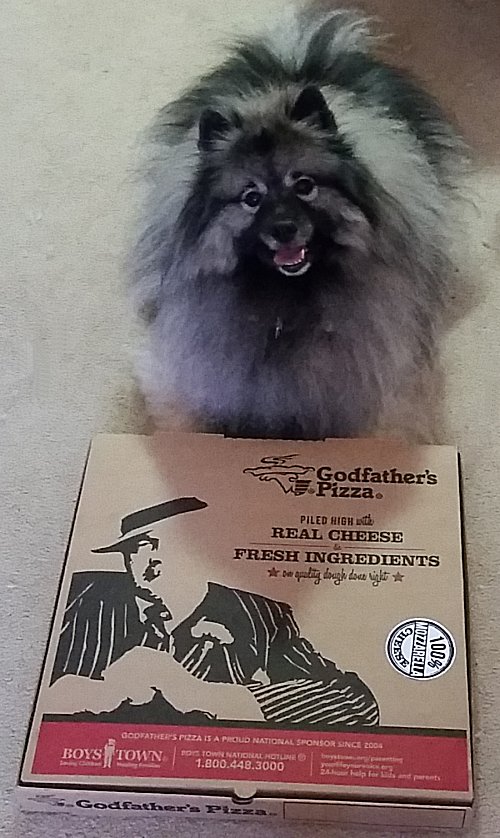 I love Godfather's pizza because it has the thickest thrust for me to chew on!
---






Music: Talk to the Animals (from Doctor Doolittle)